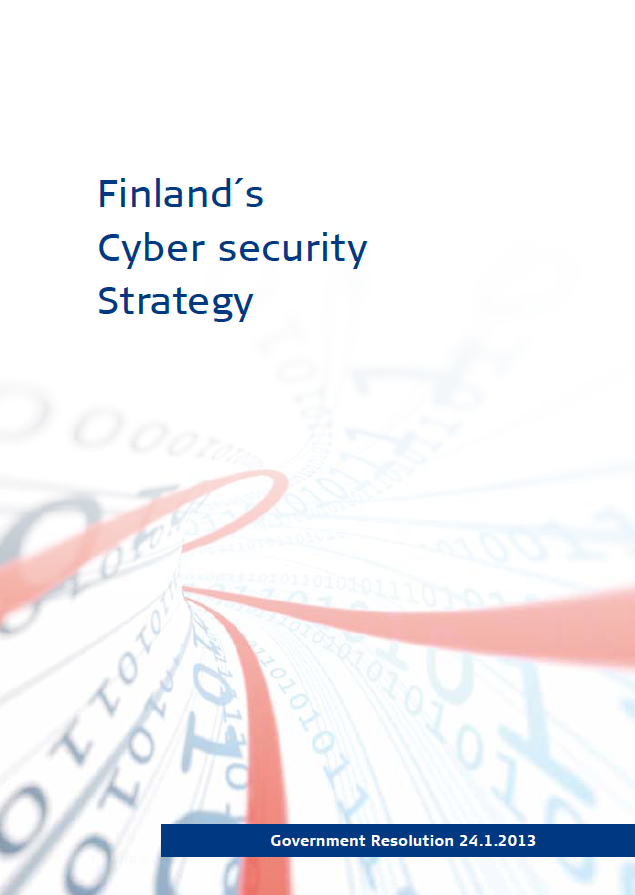 Finland's Cyber Security Strategy
The President of the Republic and the Ministerial Committee on Foreign and Security Policy (P-MCFSP) decided, on 8 March 2011, to start drafting a national cyber security strategy as part of implementing the Security Strategy for Society. Finland's cyber security strategy was drafted by a cross-sectional working group, led by Mikko Kosonen, President of the Finnish Innovation Fund Sitra. The working group consisted of representatives of authorities and the business community.
A cyber security strategy establishes a common understanding of cyber security and bolsters society's comprehensive security. The vision for cyber security, an operational model and strategic policy setting are described in the strategy. Through the cyber security policy setting and the measures needed to implement them, Finland will be able to manage intentional or unintentional ill effects in the cyber environment and to both respond to and recover from them.
A well-functioning cyber environment gives Finland a good competitive advantage. A secure cyber environment makes it easier for individuals and businesses to plan their operations, which increases economic activity. A good and secure environment also makes Finland more attractive as a country to invest in.
Since cyber security needs to cover the entire society, Finland's Cyber Security Strategy launches planning for both preparedness and business continuity management. The functions vital to society will be secured also in the future. The principles of leading cyber security, incident management arrangements, regulations on cyber security and the principles of drawing up an implementation programme of the Cyber Security Strategy are described in the background memo that is an integral part of the Strategy.
Cyber security tasks of ministries
At the meeting held on 10.2.2014, the Security Committee approved the cyber security tasks of the ministries. Defining the tasks is part of the implementation of the Cyber Security Strategy (Government Resolution of 24.1.2013). Each administrative branch has, in accordance with the Strategy, determined responsibilities and tasks from their own starting points.
Read the whole Strategy: